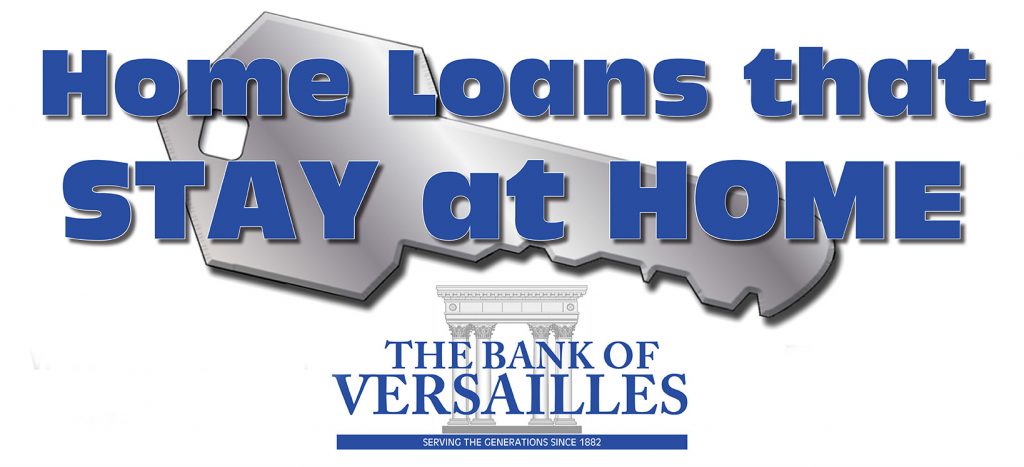 Through your life's big events, The Bank of Versailles is here with a loan to fit your needs. Our loan officers have personal and extensive knowledge of our unique area.
Available Loans
Home Loans
Residential Mortgages
Whether you are buying your first home, a vacation home, or your retirement home, you will find that The Bank of Versailles is a great choice for financing. This is an important step in life, and you deserve a dependable and honest institution to work with.
Why Choose Us?
Competitive Rates

Fixed and Adjustable Available!

Knowledgeable Lenders
We do NOT sell our loans
All decisions are made here locally, and quickly, so you always know what's going on.
Construction Loans
What can we finance for you?
Building Your New Home
Renovating Your Current Home
Adding a New Structure to Your Property
Why Choose Us?
Competitive Rates
Knowledgeable and Reliable Lenders
Step-by-Step Guidance Through the Paperwork
Quick Decisions Made Locally
Home Equity Lines of Credit
Tap into the equity in your home and free yourself from high interest credit cards. Plus your interest may be tax deductible*! These loans are a great way to finance events in your life. Some common uses are:
College Education
Weddings
Debt Consolidation
New Car Financing
New Boat Financing
Contact one of our branches today for current rates.
*Consult your tax advisor about deductibility.
Commercial Loans
A key to growing your business or starting a new business is utilizing a financial institution you can trust. The Bank of Versailles has been helping local businesses grow and prosper for 130 years, and understand the needs of our community. We offer a full line of loans to meet those needs including:
Commercial Mortgages
Lines of Credit
Equipment and Vehicle Loans
Agricultural Loans
The Bank of Versailles is dedicated to serving your agricultural needs. We have generations of experience in our organization and understand the importance of working with our local farmers. The Bank of Versailles offers a competitive line of Ag Loan Products to meet your needs. Come talk to us if you are:
Buying New Property
Refinancing Your Current Property
Replacing or Adding Equipment
Replenishing or Adding Livestock
Building a New Structure
Consumer Loans
If you are looking to make a large purchase, why not get your financing locally? The Bank of Versailles can help you finance a variety of competitive consumer loans including:
New & Used Cars
Classic Cars
Recreational Vehicles
Boats & PWCs
Airplanes
ATVs & UTVs
Contact one of our branches for current rates.